Ground improvement and remediation works for a crude oil tank at a tank farm on an island.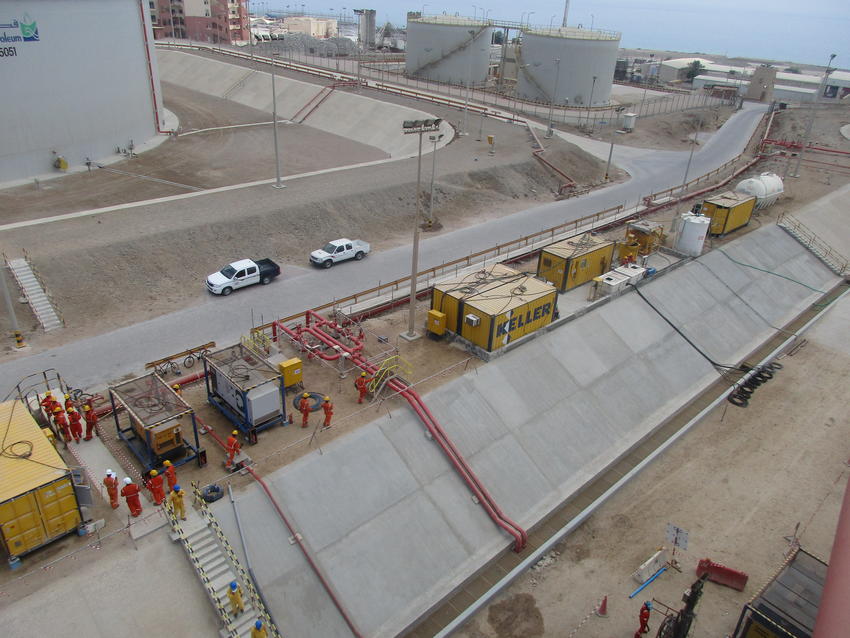 The project
The tank farm on the island had one of its 80m ø x 30m high crude oil tanks tilting towards its North East side, due to weak soil or eroding rock formation.
Keller was awarded the contract to lift the tank into position by a suitable grouting process and to stabilize the ground directly under the tank by cavity grouting.
The challenge
Lifting the tank is a complex task where it needs to be ensured, by sensitive monitoring system, that the steel base plate, shell and roof do not get distorted due to undue differential movements.
The complexity of the project doubled due to its offshore location 80km off the coast of Qatar, in the middle of an active oil field. High standards of QHSE and procedures were adopted that were far more complex than any routine project. 
The solution
Soilfrac® or compensation grouting using TAM was adopted first to stabilize the 5.0m deep sandy fill, directly below the tank base, and to improve its stiffness while injecting further to lift the tank to position.
Cavity grouting up to 39m into the rock formation was carried out to mitigate any future loss of soil and cavity formation. The lifting process was controlled by an advanced liquid levelling system, tilt meters and chain inclinometers with real time monitoring.
Project facts
Keller business unit(s)
Keller Qatar WLL, Keller SEE
Main contractor(s)
Galfar Al Misnad Engineering